From quirky food to life-size knitted figures, people across the UK are paying tribute to the Queen ahead of this week's Platinum Jubilee.
As the country prepares to celebrate the 70th anniversary of the monarchy's reign with street parties, lunches and the Union Jack adorning houses and streets, some have gone a step further to commemorate the occasion in more unusual ways.
Sky News follows some unfamiliar tributes to the Queen.
Burger Queen
Known for their quirky burgers, Annie's Burger Shack in Nottingham and Derby has released 34 gourmet options on its menu featuring a variety of unique ingredients.
To celebrate this week's milestone, owner Anmarie Spaziano came up with the idea for the Jubilee Burger, which includes roast beef fillet, Royal Recipe Mushroom Cream and Balmoral Whiskey Sauce on top of the patty.
Topping the "Silver Plate" croutons with Mini Melton Mowbray Pork Pies and Coleman Mustard, Royal Cathedral Ripe Cheddar Wedges, Coronation Chicken Balls with Fresh Pea Sprout Leaves and Mini Earl Grey Lemon Chamomile Blossoms Scones with lemon clotted cream, Tiptree peelless jam, lemon icing and edible English rose petals.
Jubilee Burger will be available for five days.
Queen Victoria (sponge)
Midlands-based social media star Laura Mason spent five days creating a life-size Queen Victoria sponge cake.
The dessert contained 400 eggs, 20kg of flour and 20kg of butter.
Available to players at the Buzz Bingo branch in Birmingham on Tuesday, it depicts the 96-year-old wearing a blue belt and silver jewellery.
"This is the biggest challenge of my career because the Queen is such a recognised and respected figure – I want justice for her," Ms Mason said.
royal yarn
A group of knitters in Capel, Sherlock Holmes, Cheshire, unveiled a life-size wool queen and a pet corgi over the weekend.
The image shows the Queen holding a knitted tote, belt and crown, designed by Holmes Chapel Community Yarn Bombers, who started planning for the jubilee last July.
They also decorated the area with knitted bunting, chains, soldiers and post boxes.
Anita Armitt, 66, who started the group with friends, said about 40 women between the ages of 10 and 80 came together to create.
"It's fantastic. It's a group of people who didn't actually know each other before, some people haven't met, but we talk to each other on Facebook," she said.
"We welcome anyone who wants to give it a try and have taken advantage of everything."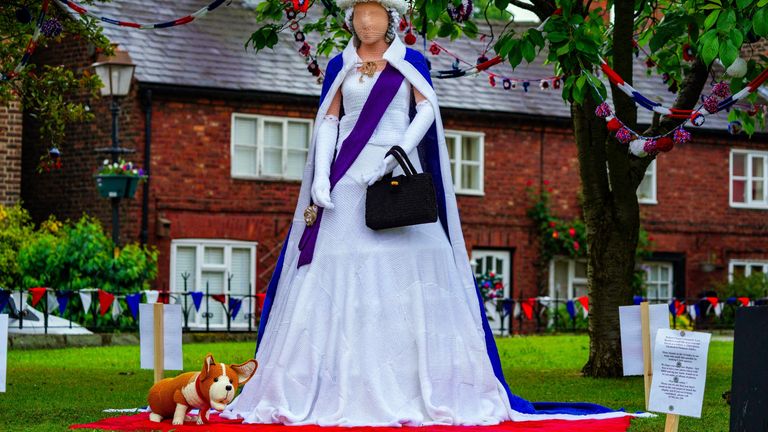 miniature majesty
Known for its lavish depictions of cities and landmarks, Legoland in Windsor has opened miniature displays of the royal family, including a Lego replica of the Queen.
Her Majesty's replica took 15 hours to build, while the Prince of Wales, the Duchess of Cornwall and the Duke and Duchess of Cambridge and their three children are also on display.
The show model maker took approximately 282 hours to build, using over 18,000 individual modules.
Lead modeller Paula Laughton said: "The royal connection between Windsor and Her Majesty the Queen means our modelling team must go all out to celebrate this monumental occasion at Miniland.
"It is always a delight to be able to recreate an iconic moment in British history in the form of Lego bricks and we hope that our guests at the resort will be able to get a glimpse of the Queen and the Royal Family, who have never seen her and the Royal Family before. A small microcosm of majesty."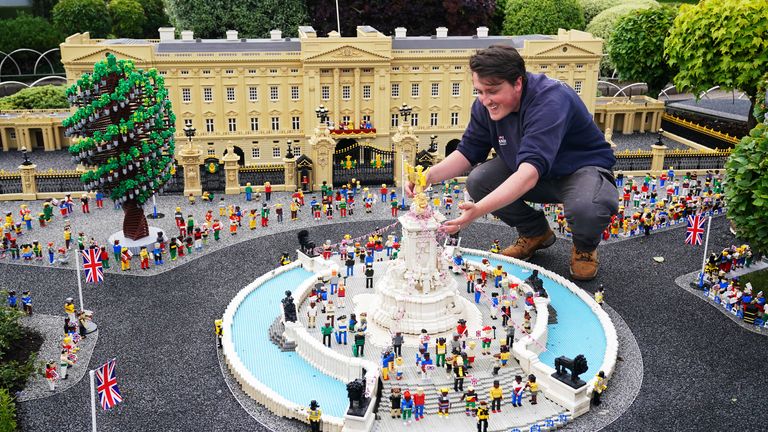 Grilled Throne
Julianne Martin and Donna Pilling, managers of Altrincham Bramley Farms, commissioned food artist Nathan Wyburn to create the throne entirely out of roasted potatoes, broccoli and Yorkshire pudding.
read more:
Check out the Queen's best jokes
Queen to send royals to all four UK countries to celebrate Platinum Jubilee
Image of the Queen projected onto Stonehenge and Marble Arch
What's the weather like for the celebration?
people reflect on the royal family
The pub will also celebrate the anniversary with a range of classic English roasts and cake staples.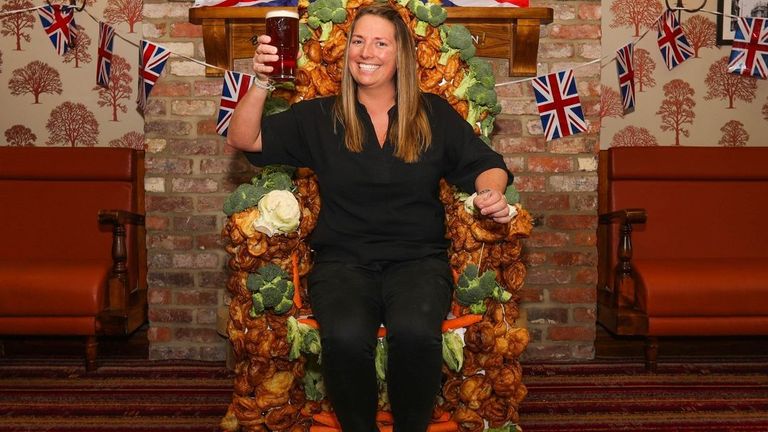 elizabeth statue
A portrait of the Queen has been unveiled as part of Orton's Platinum Jubilee in Cumbria.
It shows the face of a monarch sitting on a throne, while another model shows people camping outside.