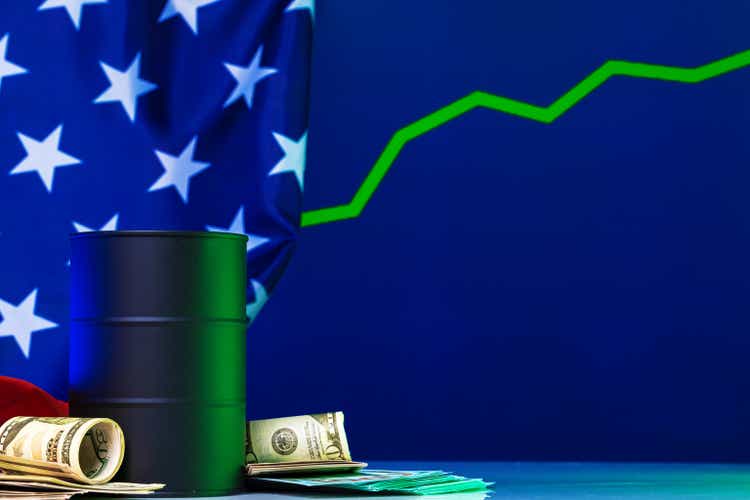 Midstream Industry Performance
Midstream stocks followed the broader stock market rally this week. The S&P had its best weekly performance since November 2020, rising 6.6%, with a mid-range gain of 6.2%.
It's good to see midstream participating in a broader market rally after having performed well in recent weeks amid market declines. Midstream performance compared to the S&P 500 since April 1 is shown below.
Energy commodities continue to strengthen, oil suffers gradually reopen Announcement in Shanghai and the new government initiative This will further depress supply. Meanwhile, natural gas surges 13.9% as U.S. inventories enter seasonal construction season 293 billion cubic feetor 16.8 percent, below the five-year average.
U.S. Treasury yields retreated in "risk-on" trade this week. The decline in yields over the past few weeks suggests that inflation expectations may be falling. The lower the U.S. Treasury yield, the more attractive the midstream yield.
Midstream companies with commodity exposure were the clear winners in the sector this week. Premium minerals and royalty owners such as Brigham Minerals (MNRL) and Viper Energy Partners (virtual network), which rose 13.3% and 11.8%, were among the top gainers as they were the biggest beneficiaries of higher commodity prices. Both stocks still trade at a discount relative to oil and gas band pricing, but we caution against using the current high prices for valuation purposes out of a conservative view.
Shares of gathering and processing (G&P) operators, the second-biggest beneficiary of higher commodity prices, also rose sharply. EnLink Midstream (ENLC) and Hess Midstream (HESM) led the gains, surging 11.8% and 11.5% respectively. Almost every other G&P benefited from the rising tide, as company-specific news was scarce.
The worst performer in the G&P group was Crestwood Equity Partners (CEQP), which Announce Asset acquisitions in the Delaware Basin further diversify its operating footprint outside the Bakken. CEQP will acquire Sendero Midstream for $600 million in cash and First Reserve's 50% stake in Crestwood Permian Basin Holdings for $320 million in CEQP common units and debt commitment. CEQP also divested $270 million of "non-core" Barnett assets to ENLC. CEQP acquires assets at 7x forward EBITDA over the next 12 months. Given Sendero's growth this year, the deal could trade at nearly 8 to 9 times trailing 12-month earnings. CEQP is counting on the growth of newly acquired assets over the next few years to add value to the transaction. Management expects these assets to provide appreciation "for many years to come."
CEQP shares were flat the day after the announcement, while other G&P shares rose, with the Alerian MLP Index (anti money laundering) rose 2%. We attribute the lacklustre market reaction to the price of the deal, which was not cheap, but also to the excess equity that the deal will add to CEQP's leverage and the new 10% ownership of First Reserve.
The deal also shows that CEQP is back in the game chasing the hottest assets. The last time it did so, its buying spree ended disastrously as the company ended up selling many of the assets it bought at huge losses. We believe CEQP management has underperformed in capital allocation and recommend against investing in these units, especially given the attractive opportunities elsewhere in G&P.
Weekly HFI Research MLP Portfolio Review
This week, our portfolio outperformed its benchmark, the Alerian MLP Index, by 1.0%. ENLC tops the list as the market likes its bolstering acquisition of CEQP's Barnett assets, ENLC get At an attractive 4x EBITDA multiple. These assets also provide a good strategic fit as they are adjacent to ENLC's Barnett system.
HESM, Blackstone Mineral (BSM), kinetics (KNTK) and the Midwest (WES) rose more than 6% this week, as high global natural gas prices and tight global supplies increased demand for U.S. output. Each of these companies will be a major beneficiary of increased U.S. natural gas production.
Our laggards include larger operators such as Energy Transfer (alien) and enterprise product partners (EPA), no news for either.
Dollar Partners (USDP) and Martin Midstream Partners (MMLP) is also weak in the absence of messages. Given their respective market caps of $200 million and $160 million, USDP and MMLP are less affected by broader market moves. Nonetheless, we find each MLP attractively priced and we rate each a "Buy."
news of the week
May 23. Federal Energy Regulatory Commission Initiated Section 5 Action against Kinder Morgan (KMI) El Paso Pipeline.Section 5 action is ostensibly on purpose Have FERC intervene in pricing complaints on behalf of pipeline customers. In this case, however, FERC acted on its own, using 2019 and 2020 El Paso data to claim that its rates were too high, according to KMI management. Due to the unjust nature of FERC's intervention, management sees this issue as a place to take a position. In previous comments, we've noted that FERC is "not a friend" to the pipeline industry, but these aggressive regulatory actions put FERC squarely in the "enemy" category, according to KMI. FERC's attempt to ignore private negotiations between natural gas service providers and customers over competitive non-monopoly pipelines such as El Paso is another way the Biden administration is impeding the functioning of the domestic energy market.
May 23. Suburban Propane Partners (SPH) announced plans Partnership with Japanese LNG and hydrogen producer Iwatani (OTCPK:IWTNF) drive the propane market to adopt low-carbon energy alternatives such as propane blended with the low-carbon compound renewable dimethyl ether. The two companies plan to collaborate to evaluate material compatibility, device performance and emission profiles for residential and commercial appliances. We applaud SPH for seeking an opportunity to supplement its propane service. Propane's share of home heating is declining, and SPH's move could allow it to capture a potentially long-term decline in profitable market share.
May 25. Cheniere Energy (liquified natural gas) Enter A 20-year long-term LNG supply agreement of 400 metric tons of LNG per year has been signed with Korean steelmaker POSCO Holdings starting in 2026. Like Cheniere's sale and purchase agreement, its LNG cost is the same as the Henry Hub price plus a fixed liquefaction fee. The deal brings Cheniere a step closer to approving Corpus Christi Phase 3, which we expect to take place this summer. Corpus Christi will increase Cheniere's total production capacity by 10 metric tons per year, or more than 20%, contributing to continued growth. We rate Cheniere's stock a Buy.
May 26. Onkyo (ENB) Announce A natural gas pipeline to Venture Global's Plaquemines LNG facility in Louisiana is planned. The project is based on a long-term take-or-pay contract and is expected to begin service in 2024 at an estimated cost of $400 million. The announcement indicates ENB's continued expansion along the U.S. Gulf Coast. Clearly, these opportunities offer better returns than ENB can find in Canada, even with its dominant midstream Canadian presence.
capital market activity
May 23. Holly Energy Partners (high efficiency) for its sponsor HF Sinclair Corp. (Dinosaur). Proceeds from unit sales will be donated to DINO.